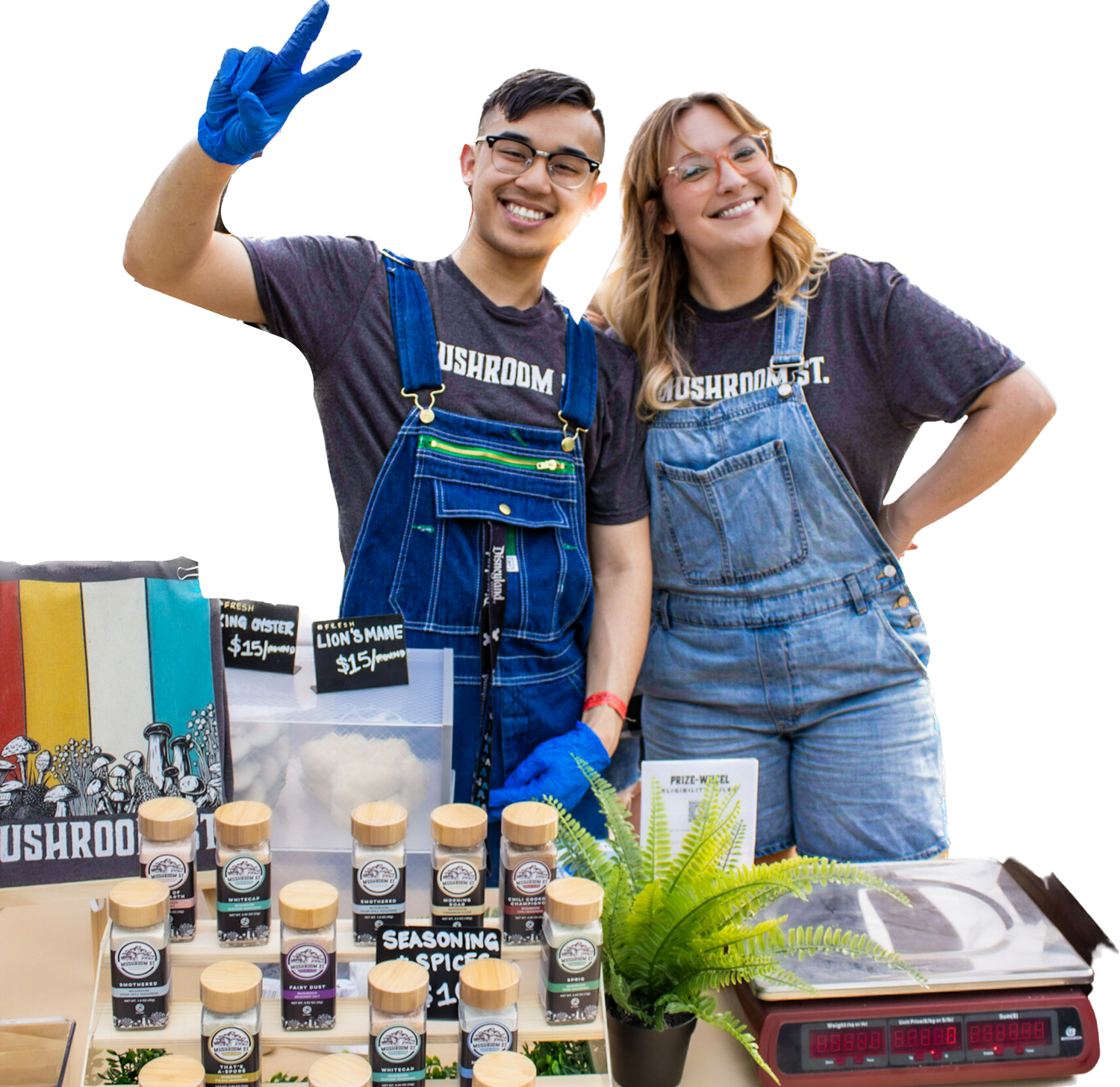 Join the mush crew
We're a community-focused team that seeks to provide fresh and locally-sourced gourmet mushrooms to our region. Check out career opportunities with DFW's innovative indoor urban mushroom farm.
Current Openings
Mushroom Farm Cultivation Apprentice

Location: Arlington, TX

Position Type: Full Time

Salary: 31,200 Annually

Job Summary: We are looking for a passionate and hard-working Full-Time Urban Mushroom Farm Cultivation Apprentice to join our growing team. The ideal candidate will have a strong interest in agriculture, sustainability, and a passion for quality mushroom cultivation.

Responsibilities:

Mushroom Cultivation: Assist in the cultivation of various types of mushrooms, including planting, nurturing, and harvesting.
Farm Maintenance: Regularly clean and maintain growing rooms, equipment, and tools to ensure a sanitary and efficient work environment.
Quality Control: Monitor growth, moisture, and temperature levels to ensure optimal mushroom development. Prevention of mushroom disease/contamination and crop pest control.
Processing: Assist with the sorting, packaging, and preparation of mushrooms for distribution to local markets and filling customer orders.
Sustainability Practices: Adhere to and actively participate in our sustainability initiatives and organic farming principles.
Team Collaboration: Work closely with other team members to ensure a cohesive work environment and assist in other farm-related tasks as needed. Work with team leads/managers to project daily harvesting needs.
Customer Interaction: Occasionally interact with customers at farmers' markets, providing information on our products and farming practices.

Qualifications:

High school diploma or equivalent preferred.
Previous experience in farming, horticulture, or a related field is a plus, but not required.
Ability to perform physically demanding tasks, including lifting, bending, and standing for extended periods.
Strong attention to detail and ability to follow precise instructions.
Passion for sustainability and a commitment to organic farming principles.
Must have reliable transportation to and from the farm.
Ability to follow all safety, quality, and sterile procedure protocols. As well as, ability to report and follow through on any deficiencies. 
Willingness to appear in photos, marketing materials, social media, and video, and must be comfortable on camera.
Can demonstrate proficiency in Microsoft Office or other computer-based applications to perform accurate record-keeping.

Benefits:

We work hard to embrace diversity and inclusion and encourage our team to bring their authentic selves to work every day. Joining Mushroom Street Farms comes with perks to support you in your personal and professional journey.

Generous paid time off and holidays.
Opportunity to learn and grow within the field of urban mushroom agriculture.
A fulfilling role within a community-focused company.
Opportunity for growth within the company.

When submitting your application, please include a resume and cover letter detailing your interest in this position. Applications will be accepted until August 31, 2023, or until the position is filled.

Mushroom Street Farms is an Equal Opportunity Employer. We encourage applicants of all backgrounds to apply.